Monthly Archives:
March 2015
USDA finally starts publicly distributing the 4-band NAIP imagery in addition to the natural color imagery.  To access NAIP Public facing data, use the following URL in ArcGIS: http://gis.apfo.usda.gov/arcgis/services.  Instructions can be found on the APFO website at: http://www.fsa.usda.gov/Internet/FSA_File/2013_apfo_webservice_10x.pdf.  By adding "rest" to the link you can apparently get more options:   http://gis.apfo.usda.gov/arcgis/rest/services
If you are using or plan to use Landsat 8 data, you might want to check out the following links. Access to Landsat 8 data has become much easier.
https://libra.developmentseed.org/
https://github.com/developmentseed/landsat-util
https://github.com/developmentseed/landsat-api
http://www.esri.com/landing-pages/software/landsat/unlock-earths-secrets
https://aws.amazon.com/blogs/aws/start-using-landsat-on-aws/
You can now access over 85,000 Landsat 8  scenes through our newest Public Data Set: Landsat on AWS. The scenes are all available in the landsat-pds bucket in the Amazon S3 US West (Oregon) region.
Landsat is an earth observation program conducted in partnership by the U.S. Geological Survey (USGS) and NASA that creates moderate-resolution satellite imagery of all land on Earth every 16 days. The Landsat program has been running since 1972 and is the longest ongoing project to collect such imagery. Landsat 8 is the newest Landsat satellite and it gathers data based on visible, infrared, near-infrared, and thermal-infrared light.
Because of Landsat's global purview and long history, it has become a reference point for all Earth observation work and is considered the gold standard of natural resource satellite imagery. It is the basis for research and applications in many global sectors, including agriculture, cartography, geology, forestry, regional planning, surveillance and education. Many of our customers' work couldn't be done without Landsat.
As we said in December, we hope to accelerate innovation in climate research, humanitarian relief, and disaster preparedness efforts around the world by making Landsat data readily available near our flexible computing resources. We have committed to host up to a petabyte of Landsat data as a contribution to the White House's Climate Data Initiative. Because the imagery is available on AWS, researchers and software developers can use any of our on-demand services to perform analysis and create new products without needing to worry about storage or bandwidth costs.
You can learn more about how to access the data on our Landsat on AWS page.
What's possible with Landsat on AWS
We've been testing our approach to hosting Landsat imagery over the past few months and have been amazed by what people have been able to do with it.
Development Seed
Development Seed has updated the popular open source landsat-util library to use data from Landsat on AWS. Now developers who rely on landsat-util can access Landsat data more quickly and with more processing options. Learn more about the updates to landsat-util. Here's a screen shot of their Libra image browser: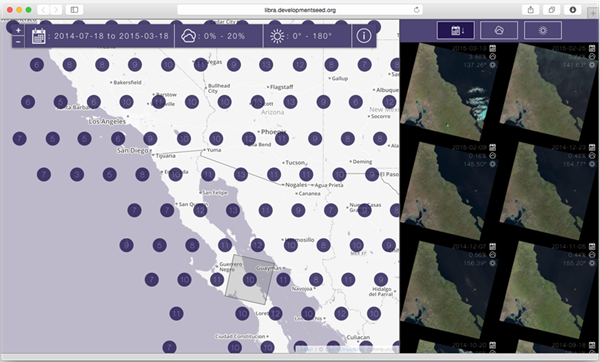 Esri
Esri has created a demonstration of how ArcGIS Online can quickly visualize Landsat data for visualization and analysis within the browser. Visit Esri's site to see how powerful and beautiful Landsat data can be. Read the rest of this entry →